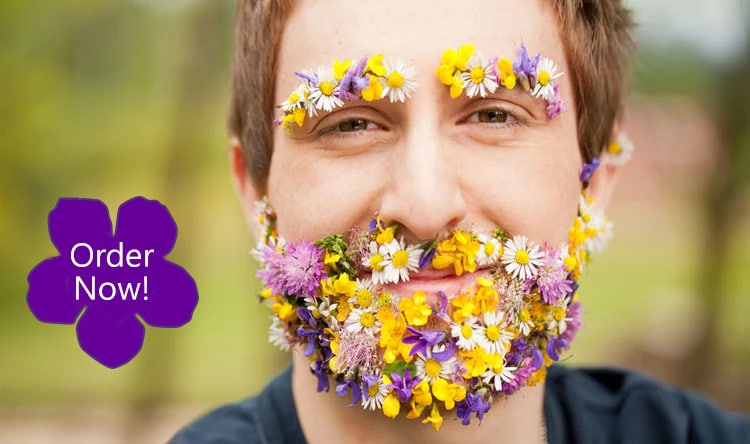 Should You Send a Man Flowers?
When someone asks if flowers are appropriate for men, we say, "of course!" One of the nicest things you can do to show a guy, boyfriend, co-worker or father your appreciation is to send him a flower arrangement. When men get flowers at work they get more than flowers. They get prestige and the honor of being the kind of man women spend money on. They get flowers which are great "chick magnets". And they get the same, tingly surprise that women get when someone walks through the door with a pretty vase of flowers and presents it to them. Right out of the blue. But it really depends on the occasion as well as the man. When is it okay for a man to send flowers to another man, for example? Is it okay to send flowers to your boss or your dad? Here are some sensible guidelines.
Why Send a Man Flowers?
To brighten his day or boost morale – flowers can lift morale and boost productivity by 15%
To celebrate a promotion – sometimes we need to feel proud
To wish him Happy Birthday
To congratulate him on a new business venture
For Father's Day, Bosses Day, Secretary's Day, Valentine's Day
To express your feelings – say I love you, flirt, or say thanks for being there
Seriously, do you need a reason? 60% of men polled by the Society of American Florists would like to receive flowers.
When Would a Man Send Another Man Flowers?
To wish him well in a new business
To offer get well wishes in the hospital
To offer condolences
What Kinds of Flowers Do Men Like?
Just about any kind of flowers – roses, tulips, lilies, sunflowers, orchids etc – are bound to touch even an alpha male. But the kinds that appeal to more men are flowers that are "sturdy" and "full of personality" like the angular birds of paradise, red anthuriums and ginger flowers for a more modern arrangement. If you are in love with him, roses are a great choice, especially in classic red. For more traditional flower arrangements, choose, instead of pastels, flowers in strong, vivid and monochromatic hues like bright yellow, intense orange, fiery red and royal gold.
The Bright Stuff - Flowers for Guys
When deciding what to send, think about his favorite color, scent, hobby and other personality defining things. Then call your local florist and describe your guy and the flower ideas that you think he will like. We are happy to work with you and offer ideas so we can create something perfect for your guy. And we have loads of containers, flower varieties, colors and textures that can be used to design a more masculine arrangement.
What if He Would Not Enjoy Getting Flowers?
Sometimes we know he would not appreciate receiving flowers. That's okay. We know that some men may love flowers in nature but not so much in a vase. Some guys are not so in touch with their 'feminine" side or as open to spontenaity and fun as we may be. Here are some great alternate ideas:
Indoor Plants and Dish Gardens
Fruit and Gourmet Basket
Junk Food Basket

We encourage you to pay attention to the men in your life!