About Us
About the Company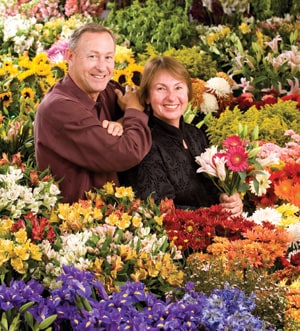 Three decades ago, My Florist & Flower Delivery was established by Brad and Penha Parker. Starting with Penha's love for flowers, and Brad's passion for business a sophisticated, professional and distinguished enterprise emerged. The enthusiasm and commitment has remained and can be seen every day in our unsurpassed customer service and breath taking floral arrangements. In May 2021 My Florist & Flower Delivery was named a Top 50 Florist nationally for the 16th consecutive year!

"Yes" is our favorite word, and it is our goal to consistently exceed our customers' expectations. From order to delivery, we will not only make it easy for you, but you can rest assured that our work will always reflect well on you. Please browse our website and choose from hundreds of stunning arrangements, or let one of our Floral Consultants assist you with your special requests. We boast one of the area's largest collections of fresh flowers, and our designers are inspired to impress. At My Florist & Flower Delivery, we guarantee your complete satisfaction. So let us turn your expressions of love, happiness, appreciation, sympathy and more into lasting impressions. Orders can be placed 24/7 on our website and we offer both local and nationwide same day delivery.
My Florist & Flower Delivery, since 1989.
You can also find us in the following directories:
---
Additional Information:
M-F 8:00 AM - 5:00 PM. Saturday 8:30 AM - 3:00 PM.

Closed on Sunday, except Mother's Day.
Store Hours
M-F 8:00 AM - 5:00 PM. Saturday 8:30 AM - 3:00 PM.

Closed on Sunday, except Mother's Day.
Contact Information
Our nationwide toll free number is 1-888-255-9500, and orders can be placed 24/7 online. You can also contact us by fax (703-442-0496) or email us at [email protected]

My Florist & Flower Delivery
1984 Chain Bridge Rd
McLean, VA 22102
Areas Covered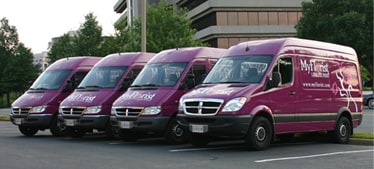 Our local delivery area includes Montgomery & Prince Georges Counties, Maryland; Washington, DC; and northern Virginia.

Through our network of select floral partners we offer floral delivery nationwide and to most foreign countries.

Our store location is:

1984 Chain Bridge Rd
McLean (Tysons Corner), Virginia 22102
Delivery Policy
A $19.99 delivery fee is applied to each order, for each address, for delivery anywhere in the U.S. or Canada during normal delivery times. There may be additional charges for special time requests or rush delivery. Specific time requests we will do our best to accommodate, but cannot be guaranteed.

Orders for delivery anywhere in the U.S. or Canada must be received before 1pm in the recipient's time zone to assure same day delivery. Orders received after that time will be delivered the next day. We are unable to make deliveries on Sunday. (Except Mother's Day) International orders (except to Canada) must be called in (1-888-255-9500) and generally require 48 hours for delivery. We cannot accept international orders online (except to Canada).


Local Delivery Areas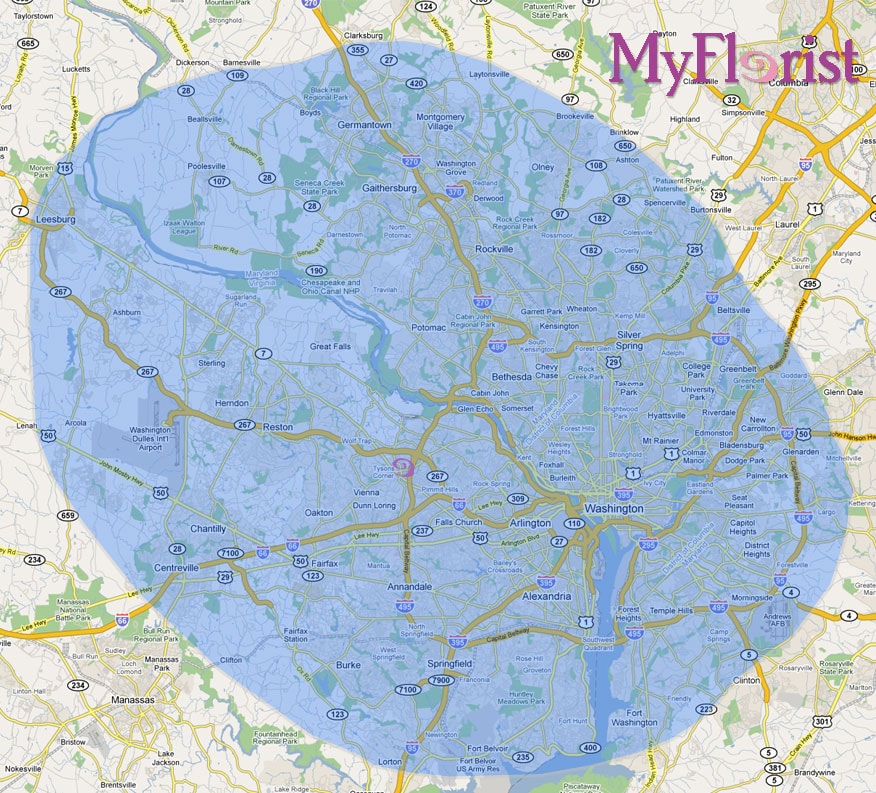 Cities
I. Washington, DC
II. Virginia: Annandale, Alexandria, Arlington, Ashburn, Burke, Centreville, Chantilly, Clifton, Crystal City, Dunn Lorring, Dulles, Fairfax, Fairfax Station, Falls Church, Great Falls, Herndon, Kingstowne, Leesburg, Lorton, McLean, Merrifield, Newington, Oak Hill, Oakton, Potomac Falls, Reston, Rosslyn, South Riding, Springfield, Sterling, Tysons Corner, Vienna, Woodbridge.
III. Maryland: Adelphi, Aspen Hill, Battery Park, Beltsville, Bethesda, Bladensburg, Boyds, Bowie, Brentwood, Brookeville, Cabin John, Capitol Heights, Cheverly, Chevy Chase, College Park, Darnestown, Derwood, District Heights, Forest Heights, Fort Washington, Gaithersburg, Germantown, Glen Echo, Glenarden, Greenbelt, Hyattsville, Kensington, Largo, Laytonsville, Montgomery Village, Morningside, Mt. Rainier, New Carrollton, North Potomac, Olney, Oxon Hill, Potomac, Riverdale, Rockville, Seat Pleasant, Silver Spring, Temple Hills, Upper Marlboro, Washington Grove, Wheaton, White Oak.
IV. Same day nationwide delivery to all areas through our network of preferred florist partners. All orders carry our 100% satisfaction guarantee.
Zip Codes in our Delivery Area
Washington DC Metro Areas & Zip Codes:
20001, 20002, 20003, 20004, 20005, 20006, 20007, 20008, 20009, 20010, 20011, 20012, 20015, 20016, 20017, 20018, 20019, 20020, 20024, 20032, 20036, 20037, 20052, 20317
Flower Delivery to These Zip Codes in Virginia:
20120, 20124, 20151, 20152, 20164, 20165, 20166, 20108, 20109, 20110, 20111, 20121, 20146, 20147, 20148, 20149, 20152, 20170, 20171, 20175, 20190, 20191, 20194, 22003, 22039, 22015, 22027, 22030, 22031, 22032, 22033, 22041, 22042, 22043, 22044, 22046, 22066, 22079, 22093, 22101, 22102, 22124, 22150, 22151, 22152, 22153, 22180, 22181, 22182, 22201, 22202, 22203, 22204, 22205, 22207, 22211, 22301, 22302, 22303, 22304, 22305, 22306, 22307, 22308, 22309, 22310, 22311, 22312, 22314, 22315
And My Florist & Flower Delivery Delivers Flowers to These Zip Codes in Maryland:
20703, 20704, 20705, 20706, 20712, 20715, 20716, 20717, 20718, 20719, 20720, 20721, 20722, 20731, 20735, 20740, 20741, 20742, 20743, 20744, 20745, 20746, 20747, 20748, 20749, 20750, 20752, 20753, 20757, 20762, 20768, 20770, 20771, 20772, 20773, 20774, 20775, 20781, 20782, 20783, 20784, 20785, 20787, 20788, 20790, 20791, 20792, 20799, 20814, 20815, 20816, 20817, 20830, 20832, 20833, 20837, 20850, 20851, 20852, 20853, 20854, 20855, 20866, 20871, 20872, 20874, 20876, 20877, 20878, 20879, 20882, 20886, 20895, 20899, 20901, 20902, 20903, 20904, 20906, 20910, 20912, 20913
Flower Deliveries
My Florist & Flower Delivery Serves These Funeral Homes
Always Remembered Funeral
Arlington Funeral Home
Arlington National Memorial
Austin Royster Funeral Home
Barber Funeral Home
Bianchi Funeral Service
Blount Funeral Service
Bluford Mortuary Service
Capitol Funeral Service
Chinn Funeral Service
Collins Funeral Home
Cunningham Funeral Home
Danzansky-Goldberg Chapels
Demaine Funeral Home
Devol Funeral Home
Dunn & Sons Funeral Service
Everly Wheatley Funeral Home
Fraziers Funeral Home
Greene Funeral Home
Green Funeral Home
Hall Brothers Funeral Home
Henry Funeral Chapel
Jefferson Funeral Chapel
King David Memorial
Lewis Funeral Home
Metropolitan Funeral Service
Money & King Funeral Home
Murphy's Funeral Home
National Funeral Home
Pearson's Funeral Home
Pope Funeral Home
Pumphrey Funeral Home
Rapp Funeral Service
Rinaldi Funeral Service
Snowden Funeral Home

And many more. Check out our directory of local funeral homes with addresses and phone numbers,
Flowers Delivered to These Hospitals
Arlington Hospital Center
Bethesda Naval Medical Center
Children's National Medical
Fairfax Hospital
George Washington Hospital
Holy Cross Hospital
Howard University Hospital
Inova Fair Oaks Hospital
Inova Alexandria Hospital
Inova Mount Vernon Hospital
Reston Hospital Center
Ronald McDonald House
Shady Grove Adventist Hospital
Sibley Memorial Hospital
Suburban Hospital
Walter Reed Army Medical Center
Payment Options
We accept the following payment methods:
Visa
MasterCard
Discover/NOVUS
American Express
House Account
Pay in Store
Substitution Policy
Occasionally, substitutions may be necessary to create your bouquet due to the availability of certain flowers in various parts of the country. Care is taken to maintain the style, theme and color scheme of the arrangement, using flowers of equal value. Additionally, the substitution of certain keepsake items may be necessary due to increased demand, especially during major holidays. In single-flower arrangements, such as an all rose bouquet, or orchids, we will make every attempt to match the flower type, but may substitute with another color.